Promenad
Promenad is the best family restaurant in the very center of Sochi, where perfection of forms and impeccable taste merge together. The Promenade restaurant will undoubtedly conquer even gourmets. The gastronomic direction of the restaurant is a mix of the most popular international cuisines. We have: Russian, Japanese, Mediterranean, European and Caucasian cuisines.
The classic interior of the halls, subdued light and pleasant music, combined with excellent service, have a rest and allow you to enjoy the best varieties of wines and a varied cuisine in Sochi.
Opening hours: daily, 10: 00–2: 00
Address: st. Vorovskogo, 3, microdistrict Central, Sochi
SILENTLY
A lot (films, books, music) is born from the image. If you try to find the very image for "Quiet", it will be such afternoon time in a pleasant company with an equally pleasant conversation and a glass of quiet (that's the name, so don't look for a missing hyphen). An eclectic interior is smoothly laid on all this, which, like a patchwork quilt, consists of many catching elements: a massive wooden table in the center of the hall, a pink retrobuffet with 150 years of history, a panel of living moss, a wall with painted parrots, a separate wine room. It is amazing how all this is stacked on top of each other, forming a whole story.
Opening hours: daily, 12: 00–1: 00
Address: Sovetskaya St., 40, Central microdistrict, Sochi
Prestige
Spectacular and aristocratic panoramic restaurant "Prestige", located on the first coastline in Sochi, on the picturesque Black Sea coast, attracts with a combination of comfort and luxury. Here everything is thought out to the smallest detail and everyone who comes to Prestige to comfortably retire alone or with a company of active like-minded people will find here exactly what he needs. Pleasant atmosphere, delicious food – the restaurant welcomes its guests warmly and hospitablely, it is always welcome to old friends and those who came to Prestige for the first time …
Since Sochi is a seaside city, the menu has many dishes of European (Mediterranean) cuisine. There is also something that is especially appreciated by visitors – delicious and fragrant home cuisine and spicy, vibrant – Caucasian.
Hours: daily, around the clock
Address: st. Enlightenment, 163, Adler, Sochi
Restaurant "Olivier"
The restaurant of family recipes "Olivier" is located in the heart of the resort of Sochi. A place with an unusual atmosphere: cozy, warm and somewhat romantic. The Olivier environment is conducive to leisurely relaxation, tranquility and the enjoyment of home cooking. Being here you will be warm and sincere, as if visiting close friends.
The chef and his team have only the best and most successful copyright recipes. You will be offered insanely delicious dishes of Italian, Russian, French and Mediterranean cuisines – each guest will find a treat to their taste. Daily – only fresh desserts, cookies and homemade sweets. The most delicious brunch, homemade dinners, family dinners and of course 5 types of Olivier salad. In such a cozy corner of the urban cycle, every guest is welcome!
Opening hours: daily, 11: 00–0: 00
Address: st. Roses, 52, microdistrict Central, Sochi (ground floor)
«The Amsterdam»
TheAmsterdam Restaurant at Tulip Inn Rosa Khutor offers guests not only to taste European and Dutch cuisine, but also to enjoy the company of friends and relatives in a cozy atmosphere. Arched windows overlook the embankment of the Mzymta River and the Aibga Range.
In the morning, a buffet breakfast is served in the restaurant, where everyone can choose dishes to their taste, from hearty to dietary. Relaxed music, friendly staff, simple and comfortable furnishings, flowers and furnishings related to Holland give a sense of ownership in old Europe.
working hours: Sun – Sat 7:00 – 23:00
Address: Panorama Embankment, 2H8591
Red Buffet
This restaurant is famous for its international cuisine. Here you can order delicious hamburgers, pizza and salads. The Red Buffet serves good cheesecakes, compote and pancake cake. Many guests of this place recommend a good beer. Be sure to visit this place if you want to try a delicious cappuccino, tea or compote.
This restaurant has a cozy atmosphere. Many visitors indicate that the staff at the Red Buffet is helpful. According to customer reviews, the service here is amazing. At this place attractive prices. According to customer reviews, this place has an excellent interior. Guests rated this restaurant 4.5 stars on TripAdvisor.
Opening hours: Sun – Sat 8:00 – 23:00
Address: st. Young Lenintsev, 10/2, Sochi 354000, Russia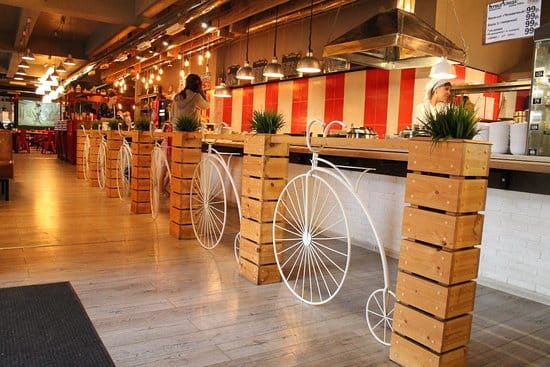 Restaurant "Che? Kharcho!"
"What? Kharcho "- a family restaurant of the Black Sea cuisine, a popular project WhiteRabbitFamily.
One of the two restaurants is located on the territory of the Rosa Khutor resort near the cable car: "What? Kharcho! "In Krasnaya Polyana awaits guests all year round.
The menu includes democratic, but very tasty dishes made from local products. Everyone will find in "What? Kharcho! "Dishes to taste: juicy khinkali, fragrant Adjarian khachapuri and the right kebab, rich soups and tender cutlets, always fresh desserts.
Opening hours: Sun – Sat 11:00 – 23:00
Address: st. Olympic, 35 | Rosa Khutor, Esto-Sadok, Sochi, Russia
Eat well
"Eat Well" is not just a restaurant, it is a culinary space where people eat deliciously, meet at lunch and discuss business, rush to breakfast here and come with their families for dinner.
Eat Well Restaurant offers a menu for every taste: more than two hundred names of popular dishes, so every day your meal will not be like the previous one.
I want to come here in the evening or on a weekend, so that I can spend time without hindrance with my closest people. "Eat Well" will appeal to all those who value moments of family happiness, tranquility and comfort.
The secret to the success of the restaurant is three principles: tasty, cozy, democratic!
Opening hours: Sun – Sat 7:00 – 0:00
Address: st. Embankment Polyanka 4, Sochi 354392, Russia.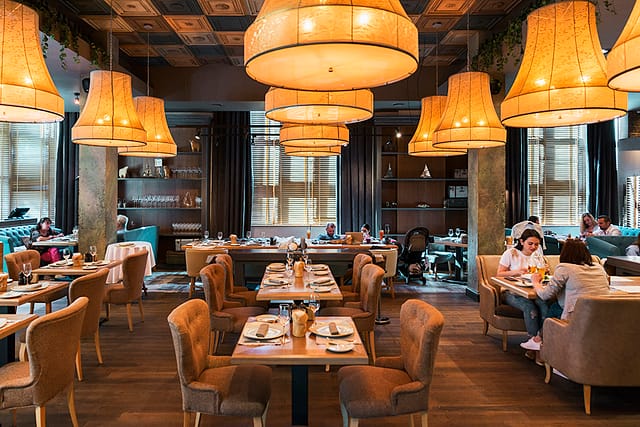 Lace
Here you can enjoy wonderful dishes prepared in local culinary traditions, as well as delicious drinks, both alcoholic and non-alcoholic.
They will pleasantly impress and complement the meal with the cozy atmosphere of the establishment of wine from the collection "Treasures of the Wine Cellar".
Opening hours: Sun – Sat 12:00 – 22:30
Address: 11a Ordzhonikidze Street, Sochi 354000, Russia
Mustard
Back to USSR. This is a great opportunity to get acquainted with a very interesting and attractive part of the culture of our great country. Café-Stack "Mustard" is a cozy place that will return you to the good old days of the Soviet Union. Everything from the interior to the food is strictly designed in the Soviet style. Home cooking will take you into the atmosphere of warmth and comfort. On the menu are olivier salads, herring under a fur coat, aspic, pasties and dumplings, familiar from childhood. And hand-made dumplings with marbled beef, farm lamb or turkey will surprise even sophisticated guests. At the same time, the creators did not forget about a pleasant advantage – an affordable price.
Opening hours: Sun – Sat 9:00 – 0:00
Address: 3 Gornaya Karusel St., Esto-Sadok, Sochi 354392, Russia