Night walks
If the weather allows you to spend an evening in the open, you can take a walk in the center. Bright night lighting changes the face of the city, and those places that you have already seen in daylight look different in the dark. Be sure to return to the historical part of the city and experience this magical transformation.
If you walk in the center, go to Minin Square and Pozharsky to admire the singing fountain. In winter, they put a big Christmas tree near him.
Nizhny Novgorod stands on two rivers, so for a romantic evening exercise, the embankments are ideal. For hiking, you should choose the Lower Volga, which offers a beautiful view of the confluence of the Volga and the Oka, or Verkhnevolzhskaya, from where you can see the whole city. If you like an active lifestyle and ride a bicycle or roller skates, go to the embankment of the Grebnoy Canal.
In the warm season, numerous sailing vessels go along the Volga. In the evenings, tourists ride on the river on boats. In addition to the beautiful view, some of them offer an entertainment program: discos, karaoke, shows.
After a walk along the embankments, turn onto Rozhdestvenskaya Street, where the whole nightlife of Nizhny Novgorod is concentrated. Here, at almost every step there are bars, clubs and restaurants working until late. And if your route leads you to Minin and Pozharsky Square, then God himself ordered you to go to Bolshaya Pokrovskaya and enjoy the local establishments.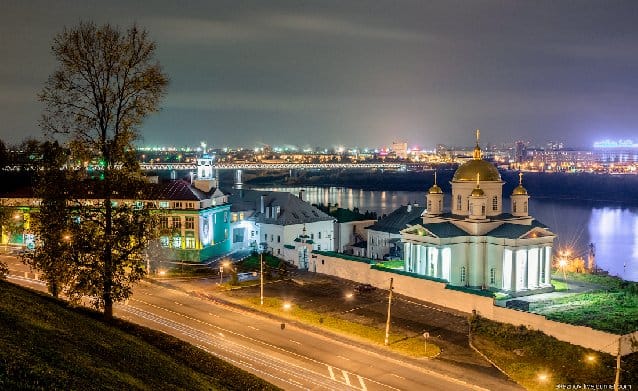 The best bars of Nizhny Novgorod

Kowalski
The Kowalski Disco Bar offers entertainment for every taste. Every weekend themed parties are held at the institution, and famous city DJs play all night. On the menu you will find classic cocktails – from Tequila Sunrise to Mojito – as well as signature drinks and traditional alcohol. Hookah lovers will not remain indifferent to the establishment: here it is cooked in water, milk or with fruit. For those who want to eat, there are special sets of meat, vegetables, cheese or fish, as well as a variety of salads, pastas, soups, grilled dishes.
Opening hours: daily from 17:00 to 01:00, weekends – around the clock
Address: st. Christmas, 24
Copper pipes
The Copper Tubes Bar invites all lovers of excellent cuisine and music. The owners collect vinyl records and periodically include their favorite jazz or funk records. And sometimes a jazz pianist Anthony Karapetyan performs at the bar. The barman Ivan Mamutov, winner of international competitions, is responsible for the cocktail menu. Drinks vary depending on the season. There is not much food, the menu includes salads, bruschettas and sandwiches.
Opening hours: every day, 18:00 – 02:00
Address: st. Christmas, 40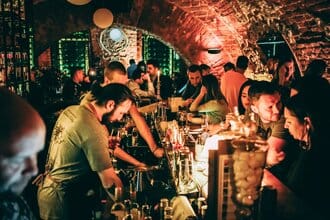 Kraken
The bar, named after the semi-mythical sea creature, specializes in alcohol, so the food here is more like an addition to drinks. The menu includes strong alcohol, wines, craft beer, and designer cocktails. You can have a snack with fried cheese, marbled beef burgers or a signature dish – a hot dog with an octopus. On weekends, DJ evenings are held in Kraken, so it is better to book a table in advance.
Opening hours: Monday – day off, Tuesday-Thursday: 17:00 – 01:00, Friday – Saturday: 16:00 – 05:00, Sunday: 14:00 – 0:00
Address: st. Christmas, 45a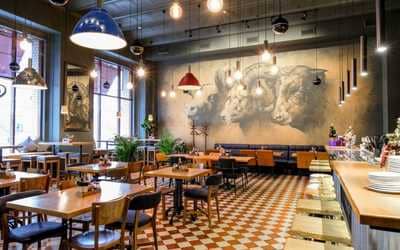 Hellyeah
If you like harder, they are waiting for you in the Hellyeah rock bar. Music a la soundtrack for the series "Sons of Anarchy", a large selection of craft beer, hearty snacks and burgers (which, by the way, are given gloves to eat with your hands). And the institution often hosts pre-parties and after-parties of rock groups that perform in Nizhny Novgorod. Watch the poster!
Opening hours: Monday – Thursday: 16:00 – 02:00, Friday: 16:00 – 04:00, Saturday: 14:00 – 04:00, Sunday: 14:00 – 02:00
Address: Bolshaya Pokrovskaya, 27
Gray deer
The Blue Deer Bar opened on Bolshaya Pokrovskaya in the fall of 2018. The institution will appeal to all connoisseurs and connoisseurs of Russian craft. The menu contains more than 50 types of beer in bottles and about ten varieties of draft beer. Here you can try not only the well-known products of the country's breweries, but also local small producers that are not represented anywhere else.
Opening hours: Monday – Thursday, Sunday: 16:00 – 00:00, Friday – Saturday: 16:00 – 02:00
Address: Bolshaya Pokrovskaya, 4